History
Safir et Melon in the French overseas departments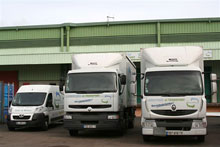 SAFIR ET MELON was created in 1986 and now employs 33 people.
Its development, which has mainly been aimed at maritime freight and air cargo consolidation, means that it is now one of the leading transport and forwarding companies not only in GUADELOUPE but also in MARTINIQUE, FRENCH GUYANA, SAINT MARTIN and SAINT BARTHELEMY.
Our Facilities
We are based in the free zone near the JARRY container terminal where we have high performance infrastructures to ensure that you get fast and efficient service, including:
1,500 m2 equipped warehousing with 24/7 security and smoke detectors,
3 forklift trucks,
4 heavy goods vehicles (TAUT-LINER, BOX VAN , FLATBED and STAKE BED trucks),
3 small vans including 1 for refrigerated transport
300 m2 office
Our Services
We can receive your containers and consolidated deliveries, stock them under customs bond and deliver them to the final client.
Our IT system is directly linked to our LE HAVRE centre to provide monitoring and guarantee the traceability of all goods movements.
All international transport activities (unpacking, customs clearance, loading, handling, delivery) are performed by our own employees in compliance with applicable regulations because we act and are registered as:
Transport forwarding agent and organiser
Public road haulage forwarding agent
Customs agent
Our consolidation containers are shipped every week from LEON VINCENT OVERSEAS LE HAVRE to the French West Indies / Guyana (SOMOTRANS in MARTINIQUE, SAMEG in FRENCH GUYANA and SAS for SAINT MARTIN and SAINT BARTHELEMY) to guarantee weekly departures for you throughout the year.
Our LEON VINCENT OVERSEAS BORDEAUX agency manages all full container loads leaving all five continents. It can deal with your orders and act as your representative with your suppliers. (type of container to use, choice of a positioning date based on sailing date, orientation to the most suitable port…)
Our organisation uses a high performance IT system that allows almost instantaneous transmission of information between the different sites. We can provide you with complete information, locally, on the situation of your orders in our Le Havre warehouses. Equally, we can use the same network to transmit your loading instructions to our logistics centre based on this information.
The thoroughness of our agents and managers combined with these facilities ensure that our clients receive the level service that they have the right to expect.